Today's newest phones are incredible and powerful devices, not cheap, though. But hey, good phones can't be cheap, right? Otherwise, they wouldn't be called the best flagship phones.
What are the best phones to buy among the latest smartphones in 2021? First of all, it depends on your needs. Tastes differ, so do the phones. Since I've worked with many smartphones recently, I wondered which one I would choose if I needed a new handset. There is a wide range of them on the market.
We all want our phones to be as good as possible in every feature. So I did some research and made the list and short review of top smartphones of 2021 according to their main specifications.
So here are the best new phones in 2021 that you can buy today:
If you don't know what aspects you should pay attention to while picking a cell phone, I hope the short mobile phone buying guide will be useful for you.
Now, let's take a closer look at the best of the best, the coolest, smartest, and fastest phones for today.
Samsung launched a very powerful 5G monster this year. The new flagship phone is pretty hefty despite the word "ultra" in its name like the last year's Galaxy S20 Ultra.
This year's flagship features a giant 6.8-inch Dynamic AMOLED 2X edge-to-edge display with a 3200 x 1440 resolution and 120 Hz refresh rate, which, unlike on the S20 Ultra, works with any resolution.
The Galaxy S21 Ultra comes with S-Pen support. So you can buy the S-Pen if you think it will make your experience of using this premium smartphone even more convenient.
A large 5000 mAh battery supports wireless (15W), reverse wireless (4.5W), and fast (45W) charging. A battery with a smaller capacity would probably be not enough for such a monster. But with this battery, you'll get through a day even with heavy usage.
The performance of the Galaxy S21 Ultra 5G is top-notch: the latest Exynos 2100 or Snapdragon 888 chipset with 12 GB of RAM and 128 or 256 GB of storage, not expandable with a MicroSD card, though. There is also the model with 16 GB of RAM and 512 GB of storage. Not every computer has such internal memory. Excellent performance, paired with the gorgeous display, makes this smartphone a pleasure for gaming.
But the most interesting part about this phone is its cameras. The Galaxy S21 Ultra boasts mind-blowing 108 MP of the primary camera, one of the four rear cameras, the 100x Space Zoom, and a dual optical zoom (3x and 10x), which easily makes this device one of the best camera phones so far.
The 108 MP wide-angle camera uses 9-to-1 pixel binning for taking 12 MP pictures when you don't use the zoom to reduce the noise. You can use pixel binning on the front 40 MP camera as well to take 10 MP photos.
Check photos on Samsung's site.
With this powerful handset, you can even shoot 8K videos. However, they will take too much place in the phone's storage. So, it's still better to stick to at least 4K videos.
Instead of the 3.5 mm headphone jack, the device features a USB-C port — the tendency of all modern premium phones.
The stereo speakers produce a loud and clear sound, which is not a surprise. Samsung was always good at providing high-quality speakers for its devices.
Overall, the Galaxy S21 Ultra is an exceptional future-proof phone with extraordinary characteristics, some of which you may never use, though. It's exclusive and expensive. Not everyone can afford this magnificent beast, but it's worth the money.
See the price: Samsung Galaxy S21 Ultra 5G
The Mate 40 Pro Plus is an incredible high-tech smartphone, one of the best camera phones on the market today.
It has 4 back lenses: a 50MP wide-angle camera, a 20MP ultra-wide-angle camera, a 12MP telephoto camera, an 8MP SuperZoom camera with 10x optical zoom, and a 3D depth-sensing camera, which take magnificent pictures and shoot cinematic footage even in low-light conditions.
There are also a 13MP wide-angle selfie lens and a 3D depth-sensing camera on the front. You can shoot 4K videos, slow-motion videos, and even use touch-free gestures for intelligent interactions not only to take pictures but to browse through your photos, answer calls, control audio playback, and for many other things.
This powerful device features a truly sophisticated AI. You don't need to touch the handset to control it.
The Mate 40 Pro Plus is covered with a high-strength nano-tech ceramic material and protected from dust and water.
A gorgeous 6.76-inch OLED display with curved edges and a 2772 x 1344 resolution is very responsive, as it comes with a 90 Hz refresh rate and a 240 Hz touch sampling rate.
Since Huawei phones are known as power-efficient, a 4400mAh battery should be enough to use a phone all day long, especially with Huawei SuperCharge, 66W wired super-fast charging and 50W wireless charging, including a wireless car charger.
The fastest 5nm Kirin 9000 5G chip provides excellent performance, considering the device also packs 12GB of RAM and 256GB of storage, expandable up to additional 256GB.
The 24-core Mali-G78 GPU delivers top-notch image processing for the best gaming experience. And stereo speakers produce impressive 3D sound.
You can also use the HUAWEI M-Pen 2 with this phone and other Huawei devices. Connect it up to 4 devices and write uninterruptedly switching from one device to another.
In spite of the outstanding high-tech hardware, the biggest disappointment for many people is that this magnificent smartphone doesn't support Google Play services. But Huawei is developing its own ecosystem.
See the price: HUAWEI Mate 40 Pro Plus
The Xiaomi Mi 11 Ultra is the best camera phone today, as it features the new Samsung ISOCELL GN2 image sensor, the biggest sensor among smartphones of global brands, the size of which is 1/1.12 inch. This camera boasts a resolution of 50MP and a large pixel size of 1.4μm, which transforms into 2.8μm after 4-in-1 pixel binning at 12.5MP.
There are also a 48MP ultra-wide-angle camera and a 48MP telephoto lens with 5x optical zoom and 120x digital zoom on the rear, and a 20MP selfie camera.
Aside from cameras, you'll find a secondary 1.1-inch display on the massive back camera bump. The phone itself is huge. Its 120Hz 6.81-inch AMOLED display has a 2K resolution.
The powerful Snapdragon 888 processor makes this handset a great gaming phone. It tends to overheat, though. And a 67W super-fast charger will power up a 5000mAh battery in no time.
Like all high-end flagships, the Mi 11 Ultra comes with a USB-C port and dual stereo speakers but without a 3.5mm headphone jack and microSD card slot. However, 256GB of storage with either 8GB or 12GB of RAM should be enough for all your needs. For those who need more, there is the option with 512GB of storage and 12GB of RAM.
Also, this time, Xiaomi protected its flagship against water and dust.
See the price: Xiaomi Mi 11 Ultra
The P40 Pro Plus is the best camera phone today on the market. It features a penta-camera system: 50 MP wide-angle camera, 40 MP ultra-wide camera, 8 MP world's first multi-reflection super periscope telephoto camera, 8 MP telephoto camera, 3D depth-sensing camera.
It is also the world's first phone with 10x optical zoom, 1/1.28" sensor, and 2.44μm super large pixel size. You can also play with its 100x Max Zoom.
Huawei has completely rebuilt the camera system. They changed an RGB (Red-Green-Blue) sensor for an RYYB (Red-Yellow-Yellow-Blue) sensor, contributing to magnificent photos, very sharp and rich with vibrant colors. Optical Image Stabilization and Night Mode work excellent as well.
The 6.58 inches OLED display is interrupted with a noticeable punch-hole camera system with a 32MP lens and a depth camera. Other than that, the 90Hz 2640 × 1200 resolution screen, curved not only on the sides but also on the top and bottom, looks gorgeous.
The performance is also great: the power-efficient Kirin 990 5G CPU, 8GB RAM, 512 or 256GB of internal memory, and you can add up to 256GB. The excellent 4200mAh battery easily gives you 2 days of moderate use.
It supports reverse charge, the world's fastest 40W wireless charging, and 40W super-fast charging.
The P40 Pro Plus has IP68 water and dust resistance.
The main issue with this perfect phone is the absence of Google services.
However, if you can live without them and download apps from Huawei's AppGallery or directly from the Internet, sites alternative to Google Play Store, in particular, this device is a fantastic camera phone with top-notch hardware and software, but very high price, though.
See the price: Huawei P40 Pro Plus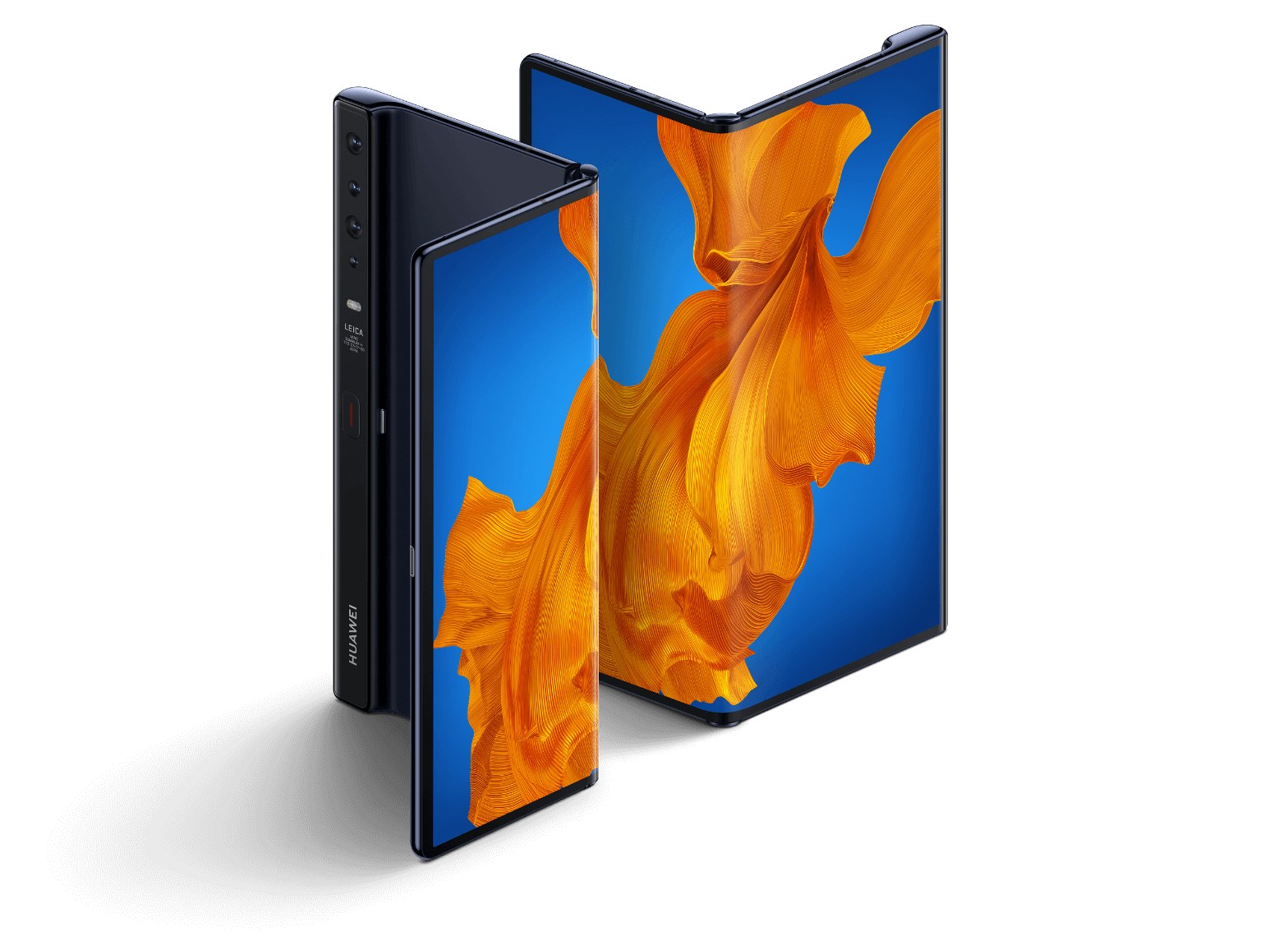 The Mate Xs definitely stands out from other smartphones even among foldable form factors with its futuristic design. What makes it so special is the concept of folding the screen on the outside, having thus one large 8-inch 2480 × 2200 resolution OLED display in a tablet mode, while in a folded condition it has two screens on both sides: the 6.6-inch 2480 × 1148 resolution main screen and the 6.38-inch secondary screen with a 2480 × 892 resolution.
When folded, the Mate Xs looks and feels pretty much like a standard smartphone, being not too much thicker (0.43"), comfortable to use in a single-handed mode but not for a long time because it's heavier (300 g).
Despite the beautiful unique design, the plastic display on the outside is prone to scratches. That is why it comes with a built-in screen protector and a rubber bumper that protects the display from touching flat surfaces. So, when you put the phone on the table, the screen will be lifted above the surface of the table a little thanks to the rubber bumper.
The quad-camera system is also a part of the smart design because the cameras, located on the phone's grip, can be used for selfies as well and saves the gorgeous screen from notches and hole-punch cameras. The cameras use pixel binning and produce excellent pictures.
Huawei's flagship foldable smartphone is equipped with the Kirin 990 5G microprocessor, 8 GB of RAM, 512 GB of storage, to which you can add 256 GB, inserting a microSD card. The 4500 mAh battery lasts all day long (about 9 hours of heavy usage) and supports 55W supercharging and fast charging with the included 45W charger but lacks wireless charging.
Although the Mate Xs is a fantastic 2-in-1 smartphone, the absence of Google services on this technologically-advanced and expensive device is frustrating for most people. However, Huawei is developing its AppGallery and Huawei Mobile Services. Besides, you can download Android apps right from the Internet.
See the price: HUAWEI Mate Xs
This flagship phone has a big gorgeous 6.9-inch bezel-less dynamic AMOLED display with a high 3088 x 1440 resolution, good for taking photos, working with documents or watching movies. But it can be not very convenient if you have small hands.
As for the colors, it's probably the best display on the market.
One of the most awesome features that distinguishes this phablet from the rest is its S Pen. This useful instrument will help you to appreciate the size of the screen even more.
This premium phone has a lovely glass front and back body with curved edges which is, however, a magnet for fingerprints.
The performance is pretty impressive: the Exynos 990 CPU with 12GB ROM and 128, 256, or 512GB ROM, if it's not enough, you can expand it with 1T MicroSD card.
It has an excellent rear camera set with 108MP, 12MP, and 12MP sensors with 5x optical zoom that take pictures of high quality, 8K videos, slow-mo FHD videos.
The 4500mAh battery will let you use the device the whole day (about 10 hours of pretty heavy use) and it supports fast and wireless charging.
Galaxy Note20 Ultra doesn't have a 3.5mm headphone jack, so you'll have to use wireless headphones or those with a USB-C connection.
The phone is waterproof.
See the price: Samsung Galaxy Note20 Ultra
Apple's latest model has a fabulous 6.1-inch Super Retina XDR OLED display with 2532 x 1170 resolution.
The iPhone 12 Pro has 12MP Ultra Wide, Wide, and Telephoto cameras. With automatic night mode for all cameras including a 12MP selfie camera, the latest Smart HDR, and other cool features, you can take magnificent pictures. Video recording is also on a high level, probably the best for now. You can shoot 4K HDR videos with Dolby Vision.
The latest iPhone comes with the fastest A14 6 core CPU, 4GB RAM. iPhones don't need RAM more than that to be fast, apparently, it works the same with the number of cores.
The internal memory can be not only 128GB, but also 256 and 512GB. It's great considering that there is no option for using MicroSD cards in iPhones.
Although the 2815mAh battery has a lesser capacity compared to the last year's flagship, it is also thinner and lets to use the phone for the whole day, considering it supports 5G, wireless charging (up to 15W), and fast charging (20W or higher).
There is a USB-C port and no 3.5mm headphone jack on the phone. It is water-resistant in 4m of water for 30 minutes.
See the price: Apple iPhone 12 Pro
The OnePlus 9 Pro is the optimum choice for those who want one of the best new phones at an affordable price, compared to the flagship phones with similar features of other brands like Samsung, for example.
The large stunning 6.7-inch curved display has a 3216 x 1440 resolution and a 120 Hz refresh rate. Scrolling and swiping with such a responsive and smooth screen is a pleasure. This is surely one of the best displays, only too curved on the edges, maybe.
The OnePlus 9 Pro provides colorful and detailed pictures thanks to four rear cameras (50 MP 48 MP 8 MP 2 MP) with 3.3x optical zoom and pixel binning. It also has a hole-punch 16 MP selfie camera.
With the latest 5nm Snapdragon 888 5G chipset, 8 GB of RAM and 256 GB of storage, it's good enough to play all kinds of mobile games, especially with the version that packs 12 GB of RAM and 256 GB of internal memory. Note that the phone doesn't support external memory.
The 4500 mAh battery boasts almost 12 hours of web surfing over 5G with the screen set to 60 Hz and 11.5 hours with 120 Hz enabled. You can fully charge the phone in less than an hour thanks to the fast charging (65 W). Also, the OnePlus 9 Pro supports fast wireless charging (50 W).
See the price: OnePlus 9 Pro
The ROG Phone 5 is the best gaming phone. It has the fastest 144Hz 1ms AMOLED display with a 300Hz touch response and protected by the toughest Corning Gorilla Glass Victus. The 6.78-inch screen has a 2448 x 1080 resolution.
The ASUS ROG Phone 5 has a very rich range of accessories such as the ROG Kunai Gamepad, the TwinView Dock II, and other various docks. It's just a paradise for gamers.
For the best long-lasting gaming experience, it has a huge 6000mAh battery that charges quickly with a 65W HyperCharge adapter.
The phone features the GameFX audio system with very loud and clear stereo speakers, 4 microphones around the chassis, a hi-fi-grade ESS DAC for lossless audio processing, and a 3.5mm headphone jack.
It has 3 back cameras with 64MP, 13MP, 5MP sensors, and a 24MP front camera.
This fantastic phone is super fast, with the latest Snapdragon 888 5G CPU, 8GB of RAM and 128GB of storage, or 12/16GB of RAM and 256GB of storage.
See the price: ASUS ROG Phone 5
Google's new phone has a 6-inch display with 2340 x 1080 resolution capable of intelligent switching between 60Hz and 90Hz depending on what the phone is doing. It's pretty smart and useful. However, it has noticeable bezels.
The software is great and you'll always get new updates from Google. Android 11 is clean on this device, without third-party apps.
Compared to the last year's flagship with a radar sensor for face recognition to unlock the phone, the Pixel 5 simply features a fingerprint sensor.
One of the most selling features of this smartphone is its camera of the same great quality. The Pixel 5 has two back cameras, a wide-angle 12.2MP camera, and a 16MP telephoto camera. With 3x zoom, night mode, and other helpful features such as illuminating the subject of a portrait picture taken with an 8MP selfie camera, you can take excellent shots.
In terms of performance, Google made a step back in favor of the Snapdragon 765G which is more power-efficient. So this year's 5G flagship model with a 4080mAh adaptive battery can be used all day long and even more.
The RAM is 8GB with 64GB or 128GB of internal memory which is not expandable with a MicroSD card.
The Pixel 5 supports 18W fast charging and reverse wireless charging.
See the price: Google Pixel 5
This is the first 4K HDR OLED display smartphone with a 21:9 aspect ratio for those who love to watch movies on Netflix.
The 6.5-inch screen has a 3840x1644 resolution with 643 pixels per inch. Sony uses a new X1 image processing engine that makes watching 21:9 HD videos on a 4K display amazing.
Because of the narrow form of the phone, it seems to be tall. It has the side mountain fingerprint sensor and a camera button. And it's very slippery, so you'll have to use a cover for it.
The Xperia 1 II has triple 12MP rear cameras. The quality of the photos is pretty good. But you have to be a good photographer to see it in every picture. There is no Night Mode, but low light shots are quite sharp and detailed.
It's good for gaming with the Snapdragon 865 CPU and 8GB of RAM. The internal memory is 256GB and is expandable to 1TB.
Compared to the last year's version, the second Xperia 1 comes with a bigger 4000mAh battery, which is a significant improvement for a 4K display smartphone. Now the battery lasts for about 10 hours and supports up to 21W charging.
The Sony Xperia 1 II is water-resistant, has stereo speakers, and this time it features a 3.5mm headphone jack. Also, it has exceptional call quality.
See the price: Sony Xperia 1 II
So these are the coolest phones in my opinion. If you don't agree, check the best smartphones on Amazon.
Although the future flagship phones will probably be even cooler with new-generation graphene batteries and better cameras. I guess you can never catch the best one. At least you can try with our phone finder, where it is very easy to compare phone size, displays, performance, and other specs.
If you don't want to spend too much money on a premium phone, check out the best budget phones and the best unlocked phone deals.