An operating system is the primal software on every computer, be it mobile or a desktop, or even a spaceship. Without this program, you can't communicate with your PC and use other software. So what is the best OS?
There are tons of operating systems for different devices. But we only know the ones we use on our devices, mostly those that are sold for consumers all over the world.
Table of contents:
The first operating systems provided the necessary minimum and were called something like DOS (Disk Operating System), i.e. the system for disk operations. In the course of evolution, operating systems have become more user-friendly for mere mortals. And today there is no need to connect disks, tapes, download programs for half an hour, write a hundred commands to get the result. It is enough to point a finger at a shortcut on the touch screen, and the game is started.
At the time of Bill Gates, any OS was a pioneering miracle. Today the world is full of operating systems, widely known, as well as existing in the dreams of those who wish to establish their empires. It's too late, however, the monopolies have captured the market. You can't rediscover America or reinvent the wheel.
What is an OS? It is a shell for interacting between a user and a device with peripherals. In other words, it's an interface — colorful and convenient buttons, windows, and drivers, which process information flows between a CPU and the rest of the parts, for example, a driver is needed for interaction between a CPU and an SSD or a CPU and a keyboard, etc.
The actual difference between operating systems is the brand name, user interface, and performance depending on the quality of the code. Hardware, such as a processor, touchscreen, memory cards, Bluetooth, plug-in keyboards, mice, joysticks, headphones, other devices consisting of similar spare parts, all these things have the same data transfer standards.
There are much fewer problems with communication in the world of information and hardware than in communication between people. People speak different languages and many have to learn English to understand foreigners. The Internet was originally built on the universal language, and browsers of any OS read and display the same HTML, CSS, JS. Otherwise, in order to get to different sites, it would be necessary to connect various devices and use different programs (browsers). So in this regard, the computer language united the world earlier than Esperanto and English combined.
Processors (CPUs) have a similar structure, a similar set of instructions. They don't physically differ in anything except the name and quality of the materials used. The formats of texts, images, videos, music, all data streams are universal and can be reproduced in any OS. Some minor differences between individual operating systems and file structure are offset by the fact that today most of the information is online in cloud storage, and we, the users, are completely indifferent between which operating systems the interaction takes place.
You can install any OS on any device. This is a difficult task for a common user, as well as unnecessary trouble for a professional. Imagine, however, you've been given a free smartphone with an OS you have never used before. Will you throw away the device or learn to use this OS, not so different from others, in half an hour?
All devices, TVs, mobiles, tablets, etc. consist of the same parts: processors, memory modules, etc. If the developers of operating systems thought of quick and easy compatibility from the very beginning, then no one would write applications for this purpose, guided by the desire to earn a living in free-predatory market relations, where if you snooze you lose.
For example, you can control your Windows computer through your smartphone. Some brands, say, Asus wrote the programs for this, also, you can find third-party software, or you may code something. The question is, why do you need this? The same is for a TV set, isn't a remote control enough? Or why should I control the refrigerator over the Internet on my phone? If there is the slightest demand on the market, there are always those who want to write programs for implementing this service.
All this talk about default compatibility with all devices based on a specific OS is another marketing hook. They may offer you an OS compatible with all devices, and all the devices on which it is used automatically determine this and begin mutually beneficial interaction. Now the toilet bowl has all the necessary data to notify the refrigerator, which in turn will contact your Robo-assistant-nutritionist... In general, the ball will be rolling, and in case of a war with foreign invaders, all devices will gather in a single transformer and turn the enemy to flight.
If it is impossible to make people happy, then at least let the hardware live in peace and harmony.
To sum up, all devices are compatible by default, as their drivers are written with the same code for the same spare parts and not only between certain operating systems, we are also faced with cross-platform solutions. The market is constantly watching and looking for opportunities to establish the necessary connections between all possible devices. Soon everything will probably be tied to a mobile device: credit card management, garage door, car, TV, the whole house.
Operating systems change in step with the times, it's like a new episode of a series. This is where incompatibility begins for two reasons — the obsolescence of a device and the deliberate lack of support for "outdated" equipment, forcing consumers to buy a new one. The golden age of IBM has long ended, when the manufacturer guaranteed backward compatibility. Today's companies, by contrast, struggle to change the new product beyond recognition to replace the outdated one.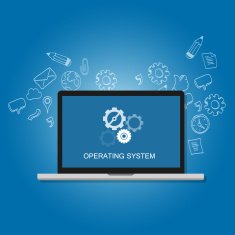 To understand which OS is better, you need to know how they differ. First of all, the user should be concerned about OS compatibility with programs and devices.
Android OS and Harmony OS are developed by free programmers, which means that the code is open and anyone can write an application for these operating systems. It is in the interests of the manufacturer of the information product to think about compatibility on different devices to get the maximum distribution and profit.
In addition to the user interface and drivers, OS manufacturers offer various services. For example, to get access to the Google services, you need to install the Chrome browser and have the Gmail mailbox. All services are located in cloud storage on the Internet, i.e. they are not tied to the OS. If a manufacturer does not restrict access to these services on purpose, nothing stops from using them.
For example, the non-commercial Linux OS is also developed by free programmers, who want to bring the good and light to the information world for donations and a "thank you", which means that in this OS, there may be no drivers for some spare parts. Why write a driver for an unpopular audio card? A manufacturer, on the other hand, will definitely do it for Windows and macOS in the interests of consumers who pay money.
If you are going to play games written for a specific OS, and these games have no equivalents on other platforms, these are probably not interesting games for most people.
Since operating systems differ on the level of hardware and have slightly different user interfaces — appearance, it's not difficult for software developers to transfer their products to any OS. High-level programming languages, such as C++, are compiled from the same source. This does not mean that you will be given a source with a suitable compiler, the developers themselves will do this work in their interests.
If you go a little deeper into the intricacies of programming, you can repeat or discover that there are unified parts and differences, interface peculiarities. Where agreements are reached between developers, the code is identical, and for different parts, certain functions are used. The code of each programmer is unique because it contains the routines they invented for interacting with the interface of their applications. Likewise, an OS is a program with certain functions.
Even simpler is the case with dynamically executable code, the engine for which is written once for each OS. The dynamic language JavaScript has appeared relatively recently. This has become possible thanks to significantly increased speeds and volumes. The engine that compiles and executes the code is used in Internet browsers. For this reason, browser applications are compatible with all operating systems.
Objectively, if you remove the brands, there is no difference between them except the interface. In most operating systems, the interface is customizable beyond recognition. Some manufacturers do not give such opportunities to users so that they do not have to return to the factory settings or, God forbid, do not break anything in the iPhone.
The most popular OS for desktops and laptops now is Windows. 9% of the market share belongs to macOS. Linux is the least popular OS among common users. And there is also Chrome OS for Chromebooks. Check out the best operating systems for PC on Amazon.
You can find more details in the articles "How to Buy a Laptop" and "Android vs iPhone".
Ready to use, requiring virtually no skills is a commercial product. If you do not want to pay money for either an OS or the programs for it, then Linux is the best choice, almost the entire Internet runs on Linux for this reason.
People who make good profits on their virtual projects donate to free software developers. These are small financial flows in comparison with the sales of Microsoft, but everyone is happy with this state of affairs. This, however, is a separate topic about copyright on code, which for some is free math, for others is an art subject that you have to pay for.
The most popular OS for smartphones is Android (80%), the rest is iOS. For tablets, there are also Android, Windows, Chrome OS, iOS, and iPadOS.
Read about smartphone operating systems also in the article "Buying a Smartphone".
Considering that most people are not engaged in the development of serious projects in the field of design, programming, music, etc. using a smartphone or tablet, any OS is great.
Surfing takes place inside a browser, that uses the same code for all operating systems. Any web developer writes code in platform-independent high-level languages. For example, the site Fastchooser is written in JavaScript, operating on the virtual engine of Node.js, which can be on any OS. Also, the client-side code is written in the same language and runs its virtual engine based on V8, which is similarly platform-independent.
In 2019, the US government banned Huawei and restricted all Chinese companies from using Google services on their phones. As a result, they have their app stores now. Huawei started to produce its processors and motherboards, work on Huawei Mobile Services, and launched its operating system — Harmony OS, which has been developed since 2012 and was released in 2019 under the name Hongmeng OS for the domestic market in China.
Now Huawei is replacing Windows with Harmony OS on its computers that come with Huawei's Kunpeng processors. Harmony is a free, open-source, cross-platform OS that can be used not only on computers but also on smartphones, tablets, Internet of things devices, such as smartwatches, smart TVs, and in-car entertainment systems.
Although Huawei states that Harmony OS is a microkernel architecture operating system that is faster and safer than Linux and Unix, it's not going to replace Android with Harmony on its phones internationally, at least for now. In the future, if it's impossible to use Android OS, Huawei will switch to Harmony OS. By that time its ecosystem should grow significantly.
There is, however, another next-generation operating system under development. Fuchsia OS has been Google's dream of the universal operating system, capable of running on all devices, since 2016. Even though it's not finished and launched yet, Huawei's Harmony is considered to be faster than Fuchsia OS and Android OS. All of them are Linux-based operating systems.
Huawei also provides its IDE (Integrated Development Environment) for software developers to create applications for Harmony OS, compatible with different devices. Now that Chinese smartphone companies, such as Huawei, Xiaomi, Oppo, and Vivo unite to work on their app platform, forming the Global Developer Service Alliance, to confront Google monopoly, there will be no shortage of developers willing to build software for Harmony OS, considering it's very easy to transfer Android apps to Harmony OS by making small changes, and that 40% of smartphone share is held by Chinese companies.
People today are not tied to desktops. Times have changed, we live in the days of mobile computers, interacting with each other through the Internet. Indeed, the most important software, except the OS itself, on your computer that you use every day, be it for entertainment or work, is the Internet browser. And we need to have the same browser, interface, and applications with the same AI on all our devices.
Every operating system aims to become unified. It will inevitably happen in the future. We already keep information on cloud services and have access to it from any device.
Remember the days when there were Windows phones on the market? Well, Microsoft is developing the unified operating system — Windows Core OS. It is the universal base for creating different versions of Windows for different devices.
Google is also working on its unified OS — Fuchsia, which will, probably, replace Android OS and Chrome OS in the future. Apple doesn't lag behind too and works on the compatibility of its apps on all Apple devices.
Huawei already launched its new flexible Harmony OS for all devices with its own ecosystem. So in the future, to enjoy using the unified operating system, you'll have to choose the whole ecosystem. The competition will be rough.
And don't forget about one more important part of every OS in the future — artificial intelligence. We already talk to our devices. AI can live literally in any electronic device. The Sci-Fi future is now. It's convenient and a little scary at the same time because it's evolving so fast.
A quantum computer is a search for God in the structure of matter. Scientists are trying to write programs that can communicate with this self-fulfilling miracle. Thus, a quantum computer will give quick solutions or even give rise to truths in response to any questions that man can not answer based on standard binary logic.
Our goal is learning to set tasks to a group of quantum units — qubits and interpret the results. Does that make any sense? Who knows? It is believed that quantum physics is based on chaos, which makes the will free, and if this information cannot be ordered, then it cannot be used to solve any problems. In this case, the paradox of a quantum computer goes to the trash of history after nanobots, that, when reduced to atomic quantities, become too fragile and therefore useless in the area for which they were created.
As a result, if we tame qubits and achieve technologies that will be recouped and reach a pocket size, it will be possible to use the quantum structure only for sky-high processing speeds of already known algorithms.
One can be said for sure, the future is with an open-source unified OS with a sophisticated AI, that doesn't infringe our freedom, though. And it would be perfect if this OS were compatible with other ecosystems. There is the possibility, however, of two monopolies reigning, one on the western market, the other one on the eastern market.
It's very easy to choose any device by OS on Fastchooser. Just open the filters, find the OS section, and pick the most suitable operating system for you.
In theory, you can install any OS that you like, but these actions are at your own risk. Software from the manufacturer is usually better because it's not made by a good-natured Chinese developer, who sketched the hacked pieces of code for free, but by serious men with higher education and good salary, who tried to satisfy clients' needs.
It's not worth it even if you are a professional coder because, as many times mentioned above, all operating systems give approximately the same capabilities with the same set of functionality.